About Us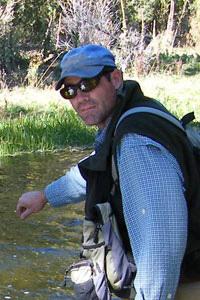 DOC THOMPSON
2006 Orvis Fly Fishing Guide of the Year
2012 Finalist Orvis Fly Fishing Guide of the Year
2014 Finalist Orvis Fly Fishing Guide of the Year
2017 Finalist Orvis Fly Fishingn Gudie of the Year
Doc started High Country Anglers in 1995 thinking he could make a living as a fly fishing guide in New Mexico. Thousands of guide trips later he is still alive and guiding. Doc worked many summers at the Philmont Scout Ranch in the 1980s and early 1990s then moved to New Mexico after graduating from the University of Missouri. He started HCA based on his passion for fly fishing, trout, and New Mexico; all with customer service.
Doc's patience, calm demeanor, fun nature and professionalism are reasons he has many returning customers to fly fish in New Mexico. He loves to boost the learning curve, share new tricks with "old dogs" and expand fly fishing horizons. It is often the experience and the journey of fishing that leads to the most memorable days. As Doc says; "All guides love to fish, but I also love to guide."
Doc is the longest operating Orvis Endorsed Fly Fishing Guide in New Mexico and is an Orvis Fly Tier-Designer. He has been honored as the Orvis Fly Fishing Guide of the Year and Orvis Fly Tier of the Year. He's been a finalist for the Orvis Fly Fishing Guide of the Year in 2012, 2014 and 2017. Doc presents seminars on fly fishing, fly selection and other programs to fly shops and fly fishing clubs throughout the country. Doc currently serves as President of the local Enchanted Circle Trout Unlimited and is Program Lead for Project Healing Waters Fly Fising Taos, NM

SHANE CLAWSON
Born and raised in Taos, New Mexico, Shane grew up fishing and exploring the outdoors of Northern New Mexico and Southern Colorado. He quickly started sharing his excitement for fly fishing professionally after discovering it was as much fun to help other people catch trout as it was catching trout for himself. When not guiding or out on the water, Shane is likely on the hunt for unknown or off the map fishing spots or enjoying one of his other outdoor activities
Shane started guiding with Doc in 2013. Shane is a natural instructor and guide. He guides people of every age and ability, from teaching the basics to beginners to experienced anglers wanting to fine tune skills and quickly become dialed into local techniques and current conditions. His mix of knowledge, patience and zeal are attributes for creating a memorable fishing trip.